The Orange Crush
The 5th ranked Syracuse University Orangemen verses Manhattan College


COACH TERRILL DEAN
EspreeNet News Service

---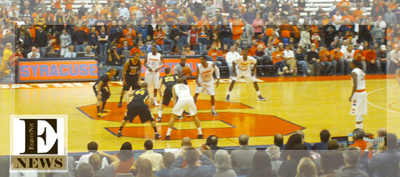 It has been a minute since I have blessed the pages of Espreenet News. So after a little bit of a withdrawal, Coach Dean is back in the mix…

Last night I had the opportunity to check out the number 5 ranked Syracuse Orange'men play Manhattan College in the Dicks NIT. Yes, I said Orange'men. After all this time it is hard for me to let the name go! Now, one would think, why on earth would you pick that game to attend? Well, what better way to see how a team performs against a weaker opponent.

Oh yeah, it was the one my boy called me to go to.

Playing teams like this, one can see a great deal when you play against an unworthy adversary. In case you're wondering what can be observed for starters intensity level. A coach wants to see if his/her team will be up for the challenge or lack thereof. Secondly, depth; one has a chance to see if the top 8-10 can get it done without falling off at any time. Finally, execution; during games like this it is important to examine how the team executes their offensive and defensive sets.

There are two types of people, those who feel Syracuse is worthy of their high ranking (mostly SU fans) and those who may see this as an over exaggeration the rest of the basketball nugget heads. Hmmm, well, let me see, I am quite impressed with The 'Cuse!

Let me start with the bench filled with coaches. All of the crew was exceptionally sharp, Bernie, Mike, Red, and of course Zee. Now, Zee was always sharp. But it looks like my boy stepped up his swagger in the suit game. As for Coach Boeheim, it was status quo as usual. No need for him to shine like the sun because he has the staff to get that done. Once you look past the GQ styles with the assistants, you are ready to see if the Orange can express themselves as a top five team in the nation.

I went in with an open mind and vision of what I was going to see. The Orange, in the words of Seth Marcel, "was a smooth as church socks on a marble floor!' They managed to blow out a team without it looking as if it was a blowout. Sure, there were some rough patches. However, they managed to show they have a very solid squad. They have depth, shooters: real shooters, solid post presence, good defensive footwork; even in man to man, and more importantly they enjoy being with each other.

Could this be a national championship team? Too soon to tell. Could this be the best team SU has had? The verdict is still out. Do I think they have a shot to go deep into the post season? ABSOLUTELY! For the first time, I don't foresee injuries or disciplinary problems being an issue with this team due to their depth and any void that is open will can be filled by a hungry participant. It was nice to see Coach B roll out the ball and let the guys play.

Good Luck Orange….We will be watching….

Be on the lookout for the return of The Coach Dean Show in December 2011. Real News! Real Sports! Real Talk!

-Coach Dean
"Preparing You For The Game!"
---

Reader Comments

Thank goodness we are getting new articles from Coach! Keep them coming!
-Phinesse Demps

Hey Coach Dean, big ups on your article here. With your coaching acumen, I am satisfied with your assessment of the Orange(men's)prospects of national prominence this season!
-Labeeb Hameed


---



Comment & Contribute

If you would like to tell us more facts about this story, please click here to send the editors of SoulofSyracuse a separate email with the information you have.



Email your comments about this story to: Comments @ SoulOfSyracuse.com

Copyright ©2011 EspreeNet News Service All rights reserved. This material may not be published, broadcast, rewritten, or redistributed without permission.

Email your stories:
Comments@SoulOfSyracuse.com