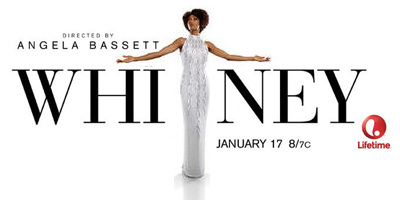 Movie Review: (Lifetime Channel presents:) WHITNEY
Starring: Yaya DaCosta and Arlen Escarpeta - Directed by: Angela Bassett


Phinesse Demps
Host of Love of Spoken Word
on www.MySoulRadio.com
SoulofSyracuse.com Contributing Writer

---

Probably one of the most anticipated television movies of 2015.

EVERYONE loved or loves Whitney Houston. She is still an iconic figure in music and even her films. Yet people never really knew her or could accept the fact about the choices she made. One of those decisions was her marrying Bobby Brown. Mainstream, let's keep it real, white media, hated the fact that she was involved with King of Stage, Brown.

Brown gets a ton of the blame for the spiraling out of control Houston. Not saying he doesn't deserve some criticism but, keep this in mind Whitney Houston is and was her own person. Bassett did a wonderful job of presenting the truth NO MATTER how difficult it is for some to take.

In case you have not figured it out, this is movie is about Whitney and Bobby; their life, love, and pain. Their struggles with being superstars in the limelight, their addictions, their faults, and believe it or not, their LOVE.

Angela Bassett deserves kudos on the way she directed this film, DaCosta on her portrayal of Houston, and the talented Deborah Cox (Grammy®-nominated and multiplatinum-selling entertainer) for Houston's vocal performance.

The film debuts Saturday January 17th at 8pm (EST). Check your local television guide for channel listening

Golden Globe® Award winner and Academy Award® nominee Angela Bassett makes her directorial debut with the Lifetime Original Movie "Whitney," featuring Yaya DaCosta (Lee Daniels' "The Butler") in the lead role with Arlen Escarpeta ("Final Destination 5") alongside her as Bobby Brown.

The music featured in the film includes Houston's hits "The Greatest Love of All," "I'm Your Baby Tonight," "I'm Every Woman" and "I Will Always Love You" as well as Brown's "Every Little Step."

Following the movie's premiere, Lifetime will air the hour-long documentary "Beyond the Headlines: Whitney Houston" at 10/9c, providing an in-depth look at the life and death of Houston. Make sure you checkout our Facebook Page: BOBC, to checkout the OFFICIAL movie trailer and comments from Angela Bassett about directing WHITNEY.


---
(For more Indie Soul, contact Phinesse Demps at phinessedemps@gmail.com or call 443-863-6886. Contributor: Phinesse Demps is a freelance writer for the Baltimore Times newspaper and several other media outlets whose column, Indie Soul appears each week in print and online. Phinesse is also co-owner of the online internet radio station, MySoulRadio.com. Follow on Twitter:@lfpmedia.)
---




Comment & Contribute

If you would like to tell us more facts about this story, please click here to send the editors of SoulofSyracuse a separate email with the information you have.



Email your comments about this story to: Comments @ SoulOfSyracuse.com

Copyright ©2015 EspreeNet News Service All rights reserved. This material may not be published, broadcast, rewritten, or redistributed without permission.

Email your stories:
Comments@SoulOfSyracuse.com