Cuba Diaries Week 3: February 2, 2009- February 8, 2009
This is a personal account of my semester in Cuba.


ALYSSA CAMPBELL
EspreeNet News Service

---

LUNES
Class went well today.. I learned some interesting things about Cuba, specifically "Africanization" and the fear it brought to whites in the US and Europe after the Haitian Revolution.. It was some interesting stuff. Then I spent the rest of the day jogging near the Malecon with Louisa, one of my friends here… Dinner was fantastic tonight! Since we don't get much food, and good food is limited it was exciting to finally get a great tasting meal! We had sweet and sour turkey (sounds gross but was soo good) , rice and beans and cucumbers with Flan for dessert! I was so grateful for it.

It rained all night so we didn't do much. The storm was pretty bad actually, a lot of lightning and wind. I called it an early night and went to bed to catch up on some needed sleep.. Since the day went so well I thought it would be a great start to a great week. I am really getting used to being here. Its funny because I didn't expect to get used to it so fast… But I guess when you really like something you will find a way to make the best of every situation you encounter.

MARTES
Today was an interesting day. I started off with a great breakfast of fruit, eggs and coffee- which was nice to get away from ham and toast for breakfast which is the usual meal… But then something funny happened…. I wore some cheap old Navy flip flops, and since everything was slippery from the rain the night before, I took a long and painful tumble down the residence stairs as soon as I stepped outside.. It was pretty funny I must admit… I landed on my butt so I was ok… But I learned my lesson.. When it rains in Cuba, wear sneakers with grip, or prepare to have bruised knees. But after that fiasco I went to Spanish class where my professor told me 'Felicitaciones' for my Spanish homework, which made me exceptionally happy because I am still a little worried about the class being a little too advanced for me. But today I was able to keep up. Later that day we had to walk about 3 miles to immigration to discontinue our status as "Illegal Aliens", and get our finger prints and other government documents to be here legally. Then we went to Coppelia, the Ice Cream place, to have what may have been the best vanilla ice cream with Chocolate Sauce I have ever tasted. I spent the rest of the day reading and hanging clothes to dry… In the evening I spent some time at a park near the residence, and saw Diego, and practiced my Spanish a bit with him.. He told me about a Rumba show that is going on this Sunday, and invited us all to go and see it. It sounds exciting and since I am trying to learn more about Cuban culture, for me it is ideal!

Again I am starting to notice the differences in appreciation and interpretation between myself and the other students.. They are back to dumb complaints like ' I miss Peanut Butter', or " I wish I could find a Cuban Girlfriend/boyfriend" or ' I cant get enough to eat', allllll of the time! Its unreal to me that one can have so many complaints when you're in such a beautiful place and learning so much. I cant bring myself to complain and when I do I get upset with myself, so its unreal to me that they do it so much.. Oh well. I am glad that I am taking everything in and enjoying what I have offered to me here…And my level of appreciate has just gone up even more as I was interrupted from writing this blog by the desk receptionist who needed to borrow some feminine hygiene products because she cant afford them… So to all those complainers…. Take That. And this is why I appreciate what I have.

My only problem right now is that I need to find an internship and job for when I get home.. I have been doing some looking here, but its hard with the bad internet connection. I am trying not to worry about it, but I like to be on top of stuff and wish I could work this out sooner than later… somebody, Hook a Sista up! Lol


---

Miercoles
Today was a good day.. We went to our culture class and had a tour of Habana Vieja to learn about the architecture. Although it was our third tour of the city, it was interesting to learn about the way the buildings were designed. The best part of the tour was in Plaza De Armas where a bunch of little kids were outside playing around this huge fountain. It was so nice to see such a mixture of kids, light and dark playing with each other so innocently. It was also really entertaining to see the games they were playing. The boys were typical boys, boxing and wrestling, while the girls were playing some game that looked like they were challenging each other to decide who the "Alpha Female" in the group was. There was a lot of neck rolling and hip shaking amongst 7 year olds, so it was pretty funny to watch.

That evening I bumped into Diego and he invited a group of us to this family's house to watch a practice of a Cuban Son band. The band was a group of women, playing various instruments such as the guitar, violin, Congo drums, and a fruit.. I don't remember what the fruit was called, but they had gutted the meat from it and used just the shell of the fruit. It was pretty cool. The women were so nice, and they were excellent musicians and singers. They travel all around the world performing, and they are actually touring in Asia next month. The only other thing that I did today was some more laundry on the roof. Its just so convenient to do it that way. But I do think next wee I will walk to the Laundromat.

Jueves
Today was a pretty normal day. I had Spanish and History class all day. Then that afternoon we went back to Jacqueline's for lunch. We did meet this man there that was an "Old School Communist" and was pissed that we were from the States. After he did some ranting and raving at us, he decided to apologize and tell us it was Bush that he hated the most and that it wasn't our fault that we were American. I am glad it was a little crazy old man because that made it funny. But I am surprised that he was the first and only person I have met so far that was truly offended that I was American. Everyone else seems interested to learn more about the US.

Viernes
Today was a good day. It started off rocky because I had to sit in a 3 hour lecture in Spanish, in the dark. The power had gone out in the building so it was interesting to try and have class there. But its Cuba, and I want to learn about the good and the bad of the country. I learned some more of the bad when I walked two miles to a hotel to use the wireless internet and call home. I paid $12 for 2 hours, and it took an hour to connect…. So long story short, I was in a pretty bad mood by that evening. But it got better. At dinner they served us Pizza and Spaghetti. I don't think I have ever eaten that many carbs in one sitting, but it was good and filling. After Dinner we went to a Cuban Ballet at the Capital building. It was beautiful. We were able to get free tickets and great seats. We sat a row away from the famous, world renowned Cuban Ballerina whose name I don't know. She is now the owner /President of the Cuban Ballet Choreography company. Since I don't normally go to ballets I didn't know what to expect but I really enjoyed it and would definitely go again.

Sabado
Today is going well. I woke up, had a great breakfast and was able to talk to mom on Skype. After that I went to the AgroMercado and bought some oranges to eat for lunch.. Then I went to the Mall, about 2 miles from the residence to go to the Supermercado and buy myself some Raisin Bran to snack on instead of all this darn bread. The mall was pretty funny. There were clothing stores, grocery stores, shoe stores, and hair stores, all in one place.

I am going to spend the rest of the day resting, and doing some reading for class. Later I am going to go to a folklore play with the group so that should be fun too. And finally the update on my spending. If we look at just my eating money for the week I have spent a total of…. (drum roll please) $3.65! If we go on to include the cost of the 2 hours of wireless internet, plus my box of raisin bran I have spent a grand total of $20.85! I gave myself a $25 limit, and still have some change left over. And in reality, if I hadn't paid the $12 to call home I would have only spent $8.85! That's pretty good if I do say so myself. I am proud of my ability to compromise my desires and think only about what I really need. Although I don't spend excessively at home, I am spending much less here and doing more things than I would usually do at home. It is proving to me that there are lots of ways to enjoy and love life without being rich. I think I am truly living here, and truly enjoying my blessings. And I think it's just so ironic that now, when I have less than usual, I am truly happy and feeling good about everything, and worrying about nothing.

Domingo
The day was pretty normal. All I did was go to church and read for History class. The Rumba event was postponed, but maybe I will go next week. I am getting adjusted to life here, and falling into a routine which I enjoy a lot.


---
Alyssa's Post - 1 - 2 - 3 - 4 - 5 << Next >>
---




Comment & Contribute

If you would like to tell us more facts about this story, please click here to send the editors of SoulofSyracuse a separate email with the information you have.



Email your comments about this story to: Comments @ SoulOfSyracuse.com

Copyright ©2009 EspreeNet News Service All rights reserved. This material may not be published, broadcast, rewritten, or redistributed without permission.

Email your stories:
Comments@SoulOfSyracuse.com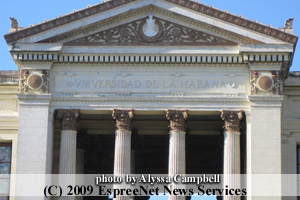 Since the fall of the US-backed dictatorship of Fulgencio Batista in 1959 Cuba has been a one-party state led by Pres Fidel Castro and - since February 2008 - by his annointed successor, younger brother Raul.
---
Full name: Republic of Cuba
Population: 11.3 million (UN 2008)
Capital: Havana
Major language: Spanish
Major religion: Christianity
Internet domain: .cu

---
Life expectancy:
76 years (men), 80 years (women) (UN)
Main exports:
Nickel, sugar, tobacco, shellfish, medical products, citrus, coffee
The Press
Granma - official Communist Party newspaper, online version in five languages including English