Cuba Diaries Week 5: February 16, 2009- February 22, 2009
This is a personal account of my semester in Cuba.


ALYSSA CAMPBELL
EspreeNet News Service

---

Lunes
Today we had class all day. But it was still a good day. The weather was very nice and class was interesting so I enjoyed it. I took the time to recuperate from the weekend and try to do more of this reading for class because it seems like it never ends! I guess my first priority here is to be a student. But I won't complain too much because I sat on our patio and read in the sun so it's nothing like sitting in the gloomy libraries back at UNC. It was nice to rest from the weekend, and more importantly, get ready for my big 21 Birthday!

Martes
It's my Birthday! Today was a good day! I woke up and went running at 630, and it was so peaceful and serene. When I got back I talked to my mom for a few minutes to get my birthday blessings from her. Dad talked to me the night before. After class I went to the book fair and it was pretty amazing. It was set up like a state fair, and there were buildings everywhere filled wall to wall with books from around the world. It was so cool to see so many people there excited about reading. Everyone was there from toddlers to the elderly, rich and poor, but all for one purpose. I wanted to take pictures of the crowds because it was unbelievable to see just how excited people were about the fair. One would have thought it was an amusement park with rides and candy when you saw people's excitement. I bought one book about afro-Cubans' race relations. The book seems interesting because it's written in the form of several short stories and poems. I hope to start it soon.

Later that night at the residence I was given a few gifts from friends and it was so nice to know that they cared about making my Birthday good. My friends Kassie and Louisa bought me some beautiful jewelry and a bunch of these little cookies called Torticas that I adore. I talked to dad on Skype Chat for almost an hour and that just made my day that much better. We had a big fantastic dinner (not so much for me, but because our provost came for a visit) and then after my directors bought us ice cream as dessert for my birthday. The best part was a cake that Diego had made for me. It was a vanilla cake with chocolate icing and vanilla cookies. It was such a nice gesture for him to go and do that. Then to top it off, he went to the book fair and bought me a little book of short stories from the bible that is all in Spanish, and another book about the Cuban 5 and their relationship with the city of Atlanta. It really touched me that he did this, because I know that he has a wife and niece to take care of, and they don't have much money, but he still wanted to help me celebrate. It feels good to see that no matter what some people's situations are they will always try to be helpful and loving. I have a lot of admiration for people like that.

I spent the rest of my birthday just talking and dancing on the Patio with the other students. The kids from SUNY Oswego arrived at our residence today, so after introducing ourselves to them we called it an early night.

Miercoles
Today was hands down THE BEST DAY EVER. After a wonderful night, and a great breakfast, I went to culture class to find out we were going on a tour outside of the neighborhood. First we went to a beautiful temple in Habana Vieja to learn about the Catholic Churches presence throughout Cuba and the way Spaniards used the religion to enforce rule. The building was amazing, and was located right in the heart of a ghetto. It was very interesting to see such a sharp contrast, but speaking with the people around there it sounded like they are very dedicated to the church and one of their first priorities is to keep the neighborhood church clean. Later we went to a Santeria museum which I thought was so cool. We learned all about the four different AfroCuban religions and the influence the African slaves that came to Cuba had on the culture overall. I think that I have decided to do my fellowship project on these four religions because the information seems like it would be enjoyable to research. So I am so glad to finally have a topic!

After class is when the day got phenomenal. First I got a love letter from the sandwich man around the corner from my house. It was so funny because it is this little middle aged man who blows me kisses every morning, and today he decided to have his friend write me a letter in English. All it said was the same thing that he says to me everyday in Spanish, "You are the most beautiful girl I have ever seen in my Life." It was pretty funny, but sweet, so I came home and hung the letter on my wall. After that, a group of us decided to go to a beach called Baracanoa in a small town called Guanacoa outside of Havana. After a difficult time finding transportation to get there, we finally arrived and it looked like paradise. It was a small beach that mainly locals use and it was so nice and peaceful. It was crazy to think that in the middle of February we were playing in the Ocean and lying on the beach. We made a bunch of friends while we were there and got to practice our Spanish a lot. The atmosphere was so different than in the city because the people were much calmer and polite. I made a friend named Danichelle who works on the beach. He was named after his mom, Michelle, and his dad, Daniel… So it's an interesting name. But he was by far the nicest, and cutest person I have met since I have been here, so that was a plus. Lol. He tried to teach me how to play beach tennis, but I think I need more practice. He gave up on the game but bought me chocolates for my birthday and just chatted for awhile instead. But it was still nice to just sit and talk to nice people all day, and it was even better to practice Spanish with natives. We decided that this beach is going to be our new hang out spot since we were there all day. And actually this weekend we plan on going to the little club on the beach because Danichelle works security there and invited us to come to the party this Friday for free so that should be fun! Now for some homework and back to my class mindset tomorrow. Oh How I love Cuba!

Jueves
Today was a good day. After History, my Spanish class went to the Book Fair with our professor to go to a book opening for a famous Cuban author. After that a group of us stayed after to buy some more books, and I got some for less than $1! I spent nearly all day at the book fair and it was exciting to see how everyone was still so excited about reading. The literacy rate in Cuba is higher than in the US, and the eagerness to read here shows the effects of the Cuban literacy campaign. The way that the campaign was organized was through Castro shortening the school year of high school students and sending them to country sides to teach the Campesinos there how to read and write. This was a great way to help merge the middle and lower classes together, while also making almost the entire country literate. Although the US always portrays the aftermath of the Revolution to be so bad, there were a lot of social factors that benefited the Cuban people- the literacy campaign being one of them. And this yearly book fair and the excitement it brings is great proof of some of those benefits.

Viernes
Not much happened today. I went to my class this morning and then spent the rest of the day planning my itinerary for my trip tomorrow. I spent all day researching Matanzas and Varadero in the guide book and planned out a trip on the oldest train in Cuba- the Hershey Train, built by the owner of Hershey chocolate in the early 1900s. The two provinces are about 3 hours away from Havana. Going on the trip should be very exciting because Matanzas is not like Havana at all, but instead is like a country side. Varadero is more of a touristy area, filled with resorts, Canadians, Europeans, and rich Latin Americans.

I am excited to take this trip because it's my first excursion in another country on my own- no parents, no leader; I am the leader. Another girl is going with me, but I am planning basically everything. I am really proud of myself that I am stepping out of my comfort zone and really planning to travel around a country in another language and figure everything out on my own. To me this is a true sign of growth. I think that if I can do this, it will give me the courage to believe I can do so much more. Independence is a beautiful feeling. I know that I have always been willing to do stuff alone, but not very often am I put out of my comfort zone and forced into the unknown alone. Tomorrow I will take the walk into the unknown voluntarily and enjoy every minute of it, taking it as a chance to learn more about me and what I am capable of.

Sabado
Oh My Good Lord! What a day! So Kassie and I woke up at 5:45am to catch a taxi to Casa Blanca train terminal in Habana Vieja to catch the Hershey Train. When we got to the station there were a bunch of kids laying all around the stop in sleeping bags waiting for the train to arrive. The station was less than desirable. It was right next to a fishy smelling port, and the actual terminal was an old dilapidated building that looked like it may have been abandoned. The train track was barely visible, and every three or four minutes a stray dog came up begging for food. Through all of this "yuckiness", somehow I found delight in the scenery because Cubans made due with what they had and were still using this old track and even older electric train that they rode for hours on end to get to the other side of the island for about 40 cents. Nothing like Cuba in the morning. When the train arrived some of our guys in our group got off the train from their trip the night before and looked devastated. They told us that the route to Matanzas was broken and that they had been stranded in a middle of nowhere town called Hershey for the night… Since the line was broken we decided to take a bus instead.

By the time we made it back across town to the bus station we had to catch a 10am bus. The tickets were only $8, but somehow we were a little disheartened because the train was $.40. But I was determined to take my voyage so I waited patiently for the bus. Once we got on the bus, we decided to skip Matanzas and go straight to Varadero since a big part of the day had already passed. The bus trip took about 3 hours and while on it I met a 19 year old Civil Engineering student named Julio from Ecuador that was studying in Havana on a scholarship. Since me and Kassie planned on looking for a Casa Particular (houses that have government permission to rent out rooms to tourists) when we got in town anyway, we were excited when Julio said he had already found one and we could walk there with him to see if the lady had another room to rent out. So the three of us walked to the ladies house to hear some interesting information from the woman. Originally she was very cordial because she was under the assumption that Julio and I were Cuban, so she was happy to share here home... Then she found out that he was from Ecuador and Kassie and I were from the States and the tables turned. She told us that she couldn't risk letting us stay because she was renting out rooms illegally and wasn't an official Casa Particular. She was nervous that if the police happened to ask us where we were staying she would get in trouble for housing "extranjeros" or foreigners, since it was technically against the law without proper permit. So with that our journey began. We spent nearly two hours walking around Varadero in 85 degree heat wearing jeans and heavy backpacks searching for someplace to stay. I surprisingly stayed calm and did a lot of the talking with the Ecuadorian kid and the people we tried to find housing through. Kassie in the meantime was having a heart attack. Eventually we split up with the "not to helpful" Ecuadorian and I finally was able to find us the cheapest price at a hotel called Villa del Mar- which actually ended up being an All Inclusive Resort! We only paid $32 per person and had everything included in this spectacular resort in Varadero, Cuba. It was my first resort stay and I must say that I was quite proud of myself for finding it and being able to negotiate such a cheap price for such a beautiful place. After such a long day we slept, ate dinner, and then went to a cabaret show that night at the resort. And wouldn't you know it, they made me get up at the show and dance Salsa with one of the singers in front of everyone. Kassie has it on Video so I will be sure to bring it home for some people to see!

I am so proud of myself for all of the things I accomplished today, and being able to get over all of the hurdles, language barriers and scariness of traveling alone into the unknown. I am proving to myself just how far I can go. What a way to spend my 21st birthday weekend!

Domingo
Today was glorious. We woke up early and ate a big breakfast, probably the best I have had since being here! After breakfast we walked to the bus station to buy our bus tickets to travel back to Havana that evening. Then we went and laid poolside until it was time to check out. Some of the guys that worked at the resort came over to talk with us and we had some interesting conversations. It's always fun to talk to random people here to just hear their stories, and practice my Spanish. After lunch we spent the entire afternoon on the beach, which was directly across the street from our hotel. It was luxurious. The sand was white like snow, and the water had about 3 different shades of blue. The only issue was that there were jellyfish everywhere so I didn't get in the water this time. But being able to lie on the beach and relax and think was just wonderful. We caught the bus at 6pm and were home by 9.

Now, here are my thoughts about the weekend. Being in Varadero was an eye opening experience to see how important tourism is to the Cuban economy, and how much different the touristy areas are from the real Cuba. It was comical to see how commercial it was and how everything was so geared towards this "tropical" "music and dance loving" image to entertain the tourists. It was sad at the same time though because the people at the hotels were literally "shucking and jiving" for these rich tourists in order to feed their families. I know that this is how the tourist sector is on most islands, but it was just interesting to see it first hand after experiencing the real island for more than a month. I am not saying that I didn't enjoy myself because I did, but I can most definitely say that I like living in Cuba like a Cuban student much more than living like a lofty tourist. Being able to be emerged in the culture and learn about people, beliefs, history, etc. is so much more fulfilling then always having a warm meal or hot water and being near a beach. I was glad to be back in Havana living like a normal person and enjoying normal things. Living simply is a nice way to live.

On another note, I was so proud of myself for completing my voyage! I planned everything, and even though things didn't go according to plan I had a great time figuring out the solutions to my problems on my own. Not one time did I worry, not one time did I Panic, and not one time did I give up. I think that my attitude this trip was the most optimistic and determined that I have been in a very long time, or maybe ever. It is so liberating to be independent, to just live my life, and to not be worried about sweating the small stuff. This weekend is one I know I will always remember.


---
Alyssa's Post - 1 - 2 - 3 - 4 - 5 << Next >>
---




Comment & Contribute

If you would like to tell us more facts about this story, please click here to send the editors of SoulofSyracuse a separate email with the information you have.



Email your comments about this story to: Comments @ SoulOfSyracuse.com

Copyright ©2009 EspreeNet News Service All rights reserved. This material may not be published, broadcast, rewritten, or redistributed without permission.

Email your stories:
Comments@SoulOfSyracuse.com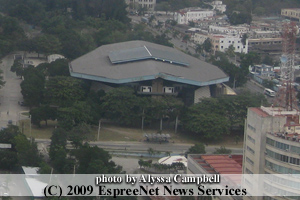 Since the fall of the US-backed dictatorship of Fulgencio Batista in 1959 Cuba has been a one-party state led by Pres Fidel Castro and - since February 2008 - by his annointed successor, younger brother Raul.
---
Full name: Republic of Cuba
Population: 11.3 million (UN 2008)
Capital: Havana
Major language: Spanish
Major religion: Christianity
Internet domain: .cu

---
Life expectancy:
76 years (men), 80 years (women) (UN)
Main exports:
Nickel, sugar, tobacco, shellfish, medical products, citrus, coffee
The Press
Granma - official Communist Party newspaper, online version in five languages including English