Cuba Diaries Week 4: February 7, 2009- February 15, 2009
This is a personal account of my semester in Cuba.


ALYSSA CAMPBELL
EspreeNet News Service

---

Lunes
Today I had class all day, but it was enjoyable. We discussed the role that black slaves played in the Cuban War for Independence from Spain in history. And then in International Relations we discussed how Cuba interacts with the world, and how being international effects the government and society. I spent the remainder of the day reading and jogged a little, trying to enjoy the cool breeze. I have a feeling this week is going to be a normal and fun week.

Martes
I woke up this morning to be at the Laundromat at 6:45. It was about a 15 minute walk, and when I arrived there were already about 15 people ahead of me. I waited almost an hour and a half to turn in my dirty clothes. Somehow though, the wait didn't seem that bad. I know that at home I would have been so upset waiting that long to put my clothes in a washer, but being in a Cuban state of mind just eased my spirit and I patiently waited. It was worth it because all of my clothes are nice and clean and shrunken back to size and I only paid $14pesos (about $.55 cents USD) for two loads.

Later in the day after Spanish class I walked around to run some errands and it was nice to explore for a while by myself so I could just think. I realized that when I walk alone I blend in much easier because I am black, and not with the other white students, so I was able to avoid being stopped a lot to be asked "Where Yuu Fron?". Its so funny to here the people as where I am from because they really do say it just like that But I was able to take a peaceful stroll and handle my business fairly quickly. I did meet a man from Jamaica who approached me speaking English because he saw my Bob Marley shirt . It was nice to talk to him in English for a while. That evening I met up with a bunch of university students who offered to teach us some dances. We practiced Merengue, and it was so much fun. Our instructor is a biology professor and a professional choreographer as well and is teaching us for free. He had us start with baby steps to make sure we learned correctly. I did ok but I need a little more practice I think. We are going to have the class every Tuesday and Thursday so I am really excited.

Miercoles
Today class was cancelled but we had a meeting with our director at Havana to talk about some issues on the trip with classes. I stopped by the Baptist church near the university to ask about service and the buses that were donated from a church in the Bronx and had paintings of children and toys all over them. The woman told me how the buses were donated in the 90s and filled with medical supplies for children. Now they use the buses to transport sick children and the elderly to clinics if they don't have cars. It sounded very interesting and I am hoping that when I attend service I can learn a little more. They are having a Valentines Day Fair at the church Sunday morning to raise money so I am going to go before service and buy a few things. I hope the service is good. Diego, the man that we all met who tells us what's going on around the city is really excited that I am Christian and wants to make sure I find a nice church while I am here. He asked that after I go to the Baptist church, if I don't like it he'd like me to come with him and his wife to his Methodist church around the corner. He is very nice and I am glad he wants to make sure I stay in church.

After the talk with the lady I went to walk around the city for a bit and just feel it out more. Later I went to the market and bought a bunch of fruit to eat for lunch for the next few days, and then spent the rest of the day catching up on class readings. Good and simple day. Oh yea, and of course all of the students go together that night to watch the UNC vs. Duke Basketball game! And of course, WE WON! GO Tarheels!

Jueves
I went to history class this morning and then my Spanish class was cancelled because the President of Chile came to visit Havana. Actually when I left the residence, our street had secret service men all over it because the statue of Salvador Allende is in the Plaza across the street from us. The president gave her speech in front of the statue- it would have been nice to see it.

Later I went to dance practice again and learned Casino- a type of Salsa dancing. I was pretty good at it and was so excited that I could actually do it. After the class we talked to the students who are teaching us and made plans to hang out with them on Friday at the Feria de los libros and then at the discoteca. It was refreshing to make some real Cuban friends that are our age. I feel that this is the best way to learn about Cuba, from people that are my age.

I spent the evening reading again and then stayed up late playing spades with some friends. There were a few things at home that I was worried about, but then I remembered that I AM in CUBA, and suddenly all those worries went away. Its so easy to live simply and freely here. I feel so light hearted and so much more easy going. I really hope that when I return stateside my feelings remain the same.

Viernes
We had class this morning but it ended pretty early so I decided to grab a snack at the pizza place near my residence. Again I learned something Cuban. The pizza here is very different from the pizza at home. I thought it was going to be different in a bad way because that's what so many people had said. But in fact, that wasn't the case at all. It was not as tasty as pizza at home, but it was good, and I plan on eating there more often since its only 2pesos per slice. Later I tried to go to a nail salon to get a pedicure since I didn't have plans but the line was too long so I will go back later next week. I spent the remainder of the day with my friends Louisa, Kassie, and Casey taking out my braids. Boy was it a relief to get them out because I had so much new growth! It took almost 6 hours but it was worth it. What surprised me most was how much Cubans liked it in my little curly fro. I think a lot of it has to do with the afrocuban pride and there are quite a few women here rockin there natural hair. So when we went out later that night I got so many compliments on it. I think it's more accepted here than it may be in the states, especially by young afrocuban men…. It just made me think about how the black community here in Cuba really does pride on being black, and value things like their uniquely coily, at times uncontrollable, but yet undoubtedly beautiful hair, but in the states in a lot of places we still have some self hate issues. Maybe the afrocubanos can come and teach our community some things about self love... But just a thought.

Later on we went to a club called Turf and practiced our Salsa. I found a really nice guy who tried to teach me a little more of the dance. It ended up being pretty funny because all he really did was spin me around in about 10 circles and then we went back to the regular dance. We just stayed for a few hours but I think it was a good start to a birthday weekend for me!

Sabado
Today was a good day. I woke up early to go to the mall to get my secret valentine's gift and then chilled at the Melia Cohiba hotel to send some emails and try and call my mom. Of course, once again the call wouldn't connect, but surprisingly I wasn't nearly as upset about it as I thought I'd be. I kept my cool and figured it was ok because I got to take leisurely two mile walk there and back home along the Malecon. It was nice to feel the breeze from the ocean and the sky was so clear around the water. As I walked back I started seeing a lot of people young and old getting ready to celebrate for Valentines day, and it made my walk that much better. Later that day I went to a Son Concert near my residence and listened to music and watched people dance. There was an elderly couple, maybe in their mid-70s who just lit up my day. The husband was such a great dancer and was so insistent on his wife dancing with him to nearly every song. They seemed like they were young kids because they were so giddy and in love, it was the most beautiful thing I have ever seen. Then when she finally got tired of all the dancing, he decided to go and play match maker with the younger crowd and forced everyone to pair up and go dance. He gave us a big speech about how young we were and the best thing we can do is love. He told us that his wife being so beautiful and loving him so much is the only reason he is still alive and living so well, and that if we wanted to live long like him we needed to love like him. This man to me anyways, was the perfect Valentine's Day spokesman.

Later that night we just exchanged gifts and hung out for a while. I called it an early night since I wanted to get up for church.

Domingo
Today I went to church at the Baptist church near the University. The service was very nice. I caught the end of Sunday school, and then the actual service had a Valentine theme. They sung a lot of beautiful songs and the Main Scripture was I Corinthians 13. I really enjoyed the sermon and the praise songs and am excited to go back next week. If the service is as enjoyable as this one was I think I may have officially found my church home while I am here!

For the rest of the day I am going to prepare some readings and work for class and then take care of some resume and internship things. I am excited about the things planned over the next few weeks as we get ready to explore more of Cuba. And I am proud to say I have made it through my first full month of being in Cuba!! Felicitaciones para yo!


---
Alyssa's Post - 1 - 2 - 3 - 4 - 5 << Next >>
---




Comment & Contribute

If you would like to tell us more facts about this story, please click here to send the editors of SoulofSyracuse a separate email with the information you have.



Email your comments about this story to: Comments @ SoulOfSyracuse.com

Copyright ©2009 EspreeNet News Service All rights reserved. This material may not be published, broadcast, rewritten, or redistributed without permission.

Email your stories:
Comments@SoulOfSyracuse.com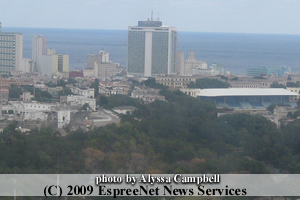 Since the fall of the US-backed dictatorship of Fulgencio Batista in 1959 Cuba has been a one-party state led by Pres Fidel Castro and - since February 2008 - by his annointed successor, younger brother Raul.
---
Full name: Republic of Cuba
Population: 11.3 million (UN 2008)
Capital: Havana
Major language: Spanish
Major religion: Christianity
Internet domain: .cu

---
Life expectancy:
76 years (men), 80 years (women) (UN)
Main exports:
Nickel, sugar, tobacco, shellfish, medical products, citrus, coffee
The Press
Granma - official Communist Party newspaper, online version in five languages including English