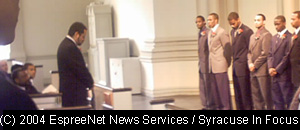 Dyson Visits SU With A Message
Tension between opportunity and responsibility
EspreeNet News Service
---

Syracuse, NY (ENet News) - The widely recognized scholar, professor, writer, minister, and intellectual Dr. Michael Eric Dyson put all of his titles to use for the African American Male Congress Baccalaureate Ceremony on the SU campus.

Speaking for just over an hour Dr. Dyson started with the "status and potential of young brothers" and finished with responsibilities of your education.

Frank Eason president of the AAMC touched on Dr. Dyson's message by saying "Stop thinking of ourselves as exceptions and start thinking of ourselves as exceptional", during his opening address.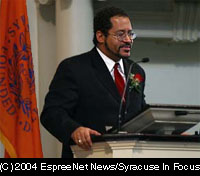 Dyson told audience of nearly 400+, there is a difference between schooling and education. Study the works of the great black scholars and intellectuals, don't think that you know because you did well with your assigned classroom reading and don't be a "skin nationalist, to be black is to know black".

Quoting Fredrick Douglas, literacy will make you unfit to be a slave, he explained, that it is important to use your mind as a weapon against mediocrity.

Not only was it a message for the students and facility, it was a community message.

Politics and social issues were also on the agenda. Speaking of the upcoming presidential elections, he said that he knows who he's not going to vote for. "I won't get Bushwhacked, or Kerryed away" said Dyson, because we already got exploited by (former president) Clinton. Referring to the warm embrace of the former president by the black community, he reminded the crowd that welfare reform hurt blacks and poor whites more than any other community. "Just because he knew the second verse to Lift Every Voice and Sing" the community let it's guard down.

Throwing in quotes Zora Neale Hurston, Harriet Tubman, Malcolm X, Tupac, Jay Z and many other, the crowd hung on every word.

"Reach out, over and under to help someone", Dyson reminding the audience about personal responsibility, "just don't leave them hanging like Justin TimberFake left Janet".

-----------------------------------------
View Photos From This Event
-----------------------------------------

About AAMC:

The African American Male Congress was founded in 1998. The vision for the organization is to be the premier student organization for African American male emergent leaders. Its mission is to evaluate and seek to resolve the social, economic and political issues that affect African Americans;serve as a support system for African American men; to promote the growth and development of African American male student leaders; and to build coalitions among leaders of student organizations.

About Dr. Dyson:

Dr. Michael Eric Dyson is an Avalon Professor in the Humanities at the University of Pennsylvania. In addition, he has taught at DePaul University, Chicago Theological Seminary, the University of North Carolina, Columbia and Brown universities. A widely published author and frequent media commentator, he has written nine acclaimed books including the recent bestsellers "Why I Love Black Women," "Open Mike: Reflections on Philosophy, Race, Sex, Culture and Religion," "Holler If You Hear Me: Searching for Tupac Shakur," as well as examinations of Dr. Martin Luther King Jr. and Malcolm X.


comments about this story: comments@SoulOfSyracuse.com

Copyright ©2004 EspreeNet News Service All rights reserved. This material may not be published, broadcast, rewritten, or redistributed without permission.


If there are any question or comments about this site:
webmaster@SoulOfSyracuse.com

Email your stories:
Comments@SoulOfSyracuse.com