Everybody Hates Chris (Monday's at 8:00 pm on the CW network)
starring Tichina Arnold, Terry Crews and Tyler James Williams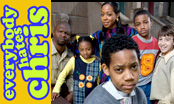 April 09 2007
Episode
Everybody Hates Hall Monitors


Hoping to get more respect from his classmates and to stop being Caruso's (Travis Flory) punching bag, Chris (Tyler James Williams) signs up to be a hall monitor. However, when the kids still don't take him seriously, Greg (Vincent Martella) suggests that Chris step up his game. Unfortunately, his newfound power as hall monitor goes right to his head, even threatening his friendship with Greg. Tonya (Imani Hakim) discovers that her girlfriends are only hanging out with her to get closer to Drew (Tequan Richmond).
---
All Of Us (Monday's at 8:30 pm on the UPN network)
starring Duane Martin, Elise Neal, LisaRaye, Tony Rock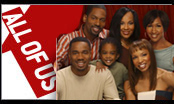 April 09, 2007
Episode
"Let's Go Bobby, Let's Go"


Robert (Duane Martin) is excited that Bobby (Khamani Griffin) will be playing pee wee football until Bobby comes home to reveal that he joined the cheerleading squad instead. After numerous attempts to convince Bobby to play football, Neesee (LisaRaye McCoy) argues that Robert should support whatever makes Bobby happy.
---
Girlfriends (Monday's at 9:00 pm on the UPN network)
starring Tracy Ellis Ross, Golden Brooks, Persia White, Jill Marie Jones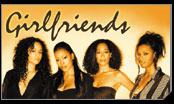 April 09, 2007
Episode
"Wrong Side of the Tracks"


Lynn (Persia White) is crushed when she receives a call from Big Boi (guest starring as himself) saying that he is at a creative crossroads with the record company and he won't be able to use her music. Lynn is devastated by the news and begins to consider leaving Los Angeles. Meanwhile, after leaving NASCAR, Darnell (Khalil Kain) must go back to work at the garage but is humiliated consistently by the new owner.
---
Half & Half (Monday's at 9:30 pm)
starring Rachel True and Essence Atkins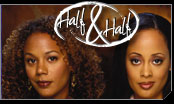 January , 2007
Episode
The next episode has not yet been scheduled.


After finding out that her rival, Naomi Dawson (guest star Michelle Williams) is giving Spencer the cold shoulder, Mona immediately confronts her, and Naomi reveals to Spencer that she is HIV positive. Meanwhile, after being told to fire a difficult client, tennis player Melba Barnes, Dee Dee doesn't have the heart to follow through and attempts to give her a makeover to help her land a sponsor. Rating: TVPG-L.
---
MY WIFE & KIDS (Tuesday's at 8:00 pm on the ABC network)
starring Damion Wayans and Tisha Campbell-Martin

January 2007
Episode
The next episode has not yet been scheduled.


At first, Michael is skeptical that Jay can be successful at opening her own soul food restaurant. But his competitive and supportive sides emerge when the Hoos, the owners of the Chinese restaurant across the street, use sneaky tactics to put "Jay's Soooooouuuul Kitchen" out of business.
---



If you would like to see a show listed here email us:
webmaster@SoulOfSyracuse.com

Email your stories:
Comments@SoulOfSyracuse.com

---