Entertainment/Music/Movies


Jay-Z decides to boycott Cristal

Now president and chief executive officer of Def Jam Records, the multiplatinum artist Jay Z (Sean Carter) has decided to boycott Cristal over comments from a company executive. "It has come to my attention that the managing director of Cristal, Frederic Rouzaud views the `hip-hop' culture as 'unwelcome attention,'" Jay-Z said. "I view his comments as racist and will no longer support any of his products through any of my various brands including the 40/40 Club nor in my personal life."


---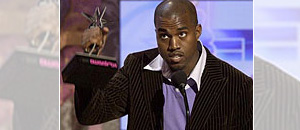 Kanye Kills Time At SU's Block Party 06

If you get a chance to see Kanye Live this year don't do it, it's not a good show. The self proclaimed nerd brought his quarks to the stage with extra long pauses and odd songs as fillers.

Grammy award winner Kanye West performed at this years Block Party in the Carrier Dome Syracuse. The artist/producer started off with a hit and ended with a hit but everything in-between was just up and down. Having a great live string section playing over tracks with background singers is original, sometimes it works but this time it didn't. I'm not saying he's has a bad show, but last night was like rehearsal. West obviously has the skills to put out hits, but he'll look back at this point of his career and say he just didn't have enough to carry a live performance. He may be another album away from a tight show.
---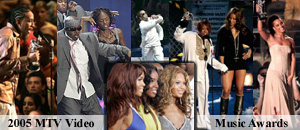 MTV Video Music Awards Provided Nothing but Flashbacks

Ludacris managed to turn his hedonistic "Pimpin' All Over the World" into a multicultural Mardi Gras-like extravaganza, complete with steel drummers, African dancers and, of course, around-the-way booty-shaking girls. Miami booty king Luke of 2 Live Crew fame brought a bevy of girls for his cameo appearance. But one of the biggest surprises was MC Hammer, recapturing some of his glory while shaking to his '90s hit, "U Can't Touch This." Another flashback came in a tribute to Diddy's protege, the late Notorious B.I.G., featuring Diddy "conducting" a string orchestra as the legendary rapper's songs played. Snoop Dogg came out at the end and delivered a verse on the B.I.G. hit "Warning."


---
Michael Jordan named part-owner of Bobcats

Bob Johnson wanted Michael Jordan involved with his NBA team from the start. It just took the Charlotte Bobcats owner three years to make it happen. Jordan bought a significant piece of the Bobcats, becoming the second-largest individual investor behind Johnson. He was named the managing member of basketball operations. "I'm excited to join Bob, and invest alongside one of the most astute businessmen I know," Jordan said

---

R&B Legend Rick James Dies of Heart attack / pneumonia

Toxicology and other tests determined that funk singer Rick James died last month from a heart attack due to an enlarged heart. On Thursday the cause of death was officially listed as an enlarged heart, along with pneumonia and the "effects of multiple drugs" - including such medications as Valium, Xanax and Vicodin. "He didn't die of a drug overdose," coroner's spokesman David Campbell said.

---

Ronald Isley convicted of tax evasion

R&B singer Ronald Isley was convicted of multiple counts of tax evasion Monday and could face up to 26 years in prison when he is sentenced.

---

Dr. Dre makes Katrina donation in Houston

Rapper and Hip-Hop mogul Dr. Dre today donated $20,000 to 50 evacuees and $1 million to the Julia C. Hester House, a non-profit organization in Houston that has been helping Katrina victims.

Dr. Dre did not attend the news conference but issued a statement that read: "I wanted to be sure that my donation did two things: went directly into the hands of hurricane victims and that it was an amount that could really impact their lives and make a difference."

---

Damon Dash Sells Rocawear Portion For $30 Million

"DAMON Dash is severing all ties with his former partner and friend Jay-Z. Dash is selling his share of Rocawear back to Jay-Z and other silent partners to the tune of almost $30 million. The duo had split up Roc-a-Fella Records earlier this year after a falling out. Insiders say Jay-Z, who is now president of Def Jam, initiated the split because he felt Dash was using him to get publicity and not pulling his weight.

---


If you would like to see something posted here email us:
webmaster@SoulOfSyracuse.com

Email your stories:
Comments@SoulOfSyracuse.com





@ The Movies

Weekend
box office


1. Shark Tale, $49.1 million
2. Ladder 49, $22.8 million
3. The Forgotten, $12.0 million.
4. Sky Captain, $3.4 million.
5. Mr. 3000, $2.6 million.
6. Woman, Thou Art Loosed, $2.5 million.
7. Shaun of the Dead, $2.4 million.
8. Resident Evil: Apocalypse, $2.3 million
9. First Daughter, $2.15 million.
10. Cellular, $2.0 million.


---
Twista Hurt Van Crash After NYS Fair

Chicago rapper Twista, known for hits such as "Slow Jamz" and "So Sexy," was hurt in a van crash that killed a member of his security staff, state police said. Twista, whose real name is Carl Mitchell, was treated and released from a hospital in Erie after the van in which he was riding veered off Interstate 90 just after 4 a.m. Monday and rolled over in the median, police said.


---
Naomi Campbell Goes Public About Her Drug Addiction

Supermodel Naomi Campbell, who won a legal battle against a tabloid newspaper over revelations about her drug addiction, is to talk about her drug battles on a national TV talk show. Campbell, 34, said she took her first drugs 10 years ago. "No one forced me to do it. I did it because I wanted to. I don't have any blame for anyone but myself." said Campbell.


---
Rick Fox Files for Divorce From Williams

Former Los Angeles Laker Rick Fox has filed for divorce from singer-actress Vanessa Williams. The couple have been married for five years and have a 4-year-old daughter, Sasha, Fox's spokeswoman, Staci Wolfe, said. Williams has three children from her first marriage, and Fox has a son from a previous relationship. The two had been separated.


---
Comedy Central Renews Deal With Chappelle for $50 million

Dave Chappelle is now truly a rich man. Comedy Central and the streetwise comedian have reached agreement for two more years of the sketch comedy "Chappelle's Show." The deal also gives Chappelle part of the DVD sales, a considerable factor considering that the first-season "Chappelle's Show" DVD has sold nearly 2 million copies. "And now I'm actually rich," said Chappelle.


---