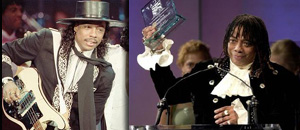 R&B Legend Rick James Dies of Natural Causes
Funk legend Rick James' death remains a mystery after a post-mortem examination failed to determine the cause.
EspreeNet News Service
---

EspreeNet News Update 9/17/04

Toxicology and other tests determined that funk singer Rick James died last month from a heart attack due to an enlarged heart. On Thursday the cause of death was officially listed as an enlarged heart, along with pneumonia and the "effects of multiple drugs" - including such medications as Valium, Xanax and Vicodin. "He didn't die of a drug overdose," coroner's spokesman David Campbell said.


---
Syracuse, NY (ENet News) - R&B/Funk legend singer, songwriter and producer Rick James, 56, died in his sleep on Friday at his home near Universal City, in Los Angeles. His cause of death has been determined to be pulmonary/cardiac failure with his various health conditions of diabetes, stroke, and pacemaker being listed as attributing factors.

He is survived by his 3 children (Ty, Rick Jr., Tazman) and 2 grandchildren (Jasmine and Charisma).

Over the years James has been imitated with respect by tv shows like "In Living Color" and the "Chappelle Show". Last month he appeared on the BET (Black Entertainment Television) Awards with protege Teena Marie and sung one of his classics "Fire and Desire".

Rick recently completed his memoir "Confessions of a Super Freak," and the book and television movie will still continue as planned. No firm release dates have been set for the book or the movie.

Rick had also recently completed a new album. Efforts are underway to have this CD released by the end of the year.

Public Memorial Service: A public memorial service and viewing will be held from 5-8 PM on Wednesday, August 11, 2004, at Forest Lawn Mortuary, 6300 Forest Lawn Drive, Los Angeles, CA 90068. Fans and friends are invited to pay their final respects to Rick James.

Cards can be mailed to: Rick James Sympathy Cards c/o Kramer Accountancy Corporation 12300 Wilshire Blvd., Ste 310 Los Angeles, CA 90025 Cards sent to this address and addressed in the above manner will be delivered to the family.


---
The Facts

Born James A. Johnson Jr. in Buffalo, NY, known as the King of Punk Funk, and the bad boy of Motown, Rick James blended the hard core funk of his predecessors James Brown, Sly Stone and George Clinton with the Rock and Roll theatrics of the Rolling Stones and Kiss.

Rick James was the quintessential "Super Freak," a term he coined in the 1980's with the multi-platinum song he wrote, arranged, produced and performed sharing that same title. The single catapulted the album Street Songs to #1 on the R&B charts and #3 on the pop charts. This mega-talented, multi-Grammy and American Music Award winner played at least five different instruments and had not only sold millions himself, he wrote and produced songs for Eddie Murphy, Mary Jane Girls, The Temptations, Teena Marie and Smokey Robinson, all selling millions as well.

-----------------------------------------
Rick James Website
-----------------------------------------


comments about this story: comments@SoulOfSyracuse.com

Copyright ©2004 EspreeNet News Service All rights reserved. This material may not be published, broadcast, rewritten, or redistributed without permission.


If there are any question or comments about this site:
webmaster@SoulOfSyracuse.com

Email your stories:
Comments@SoulOfSyracuse.com