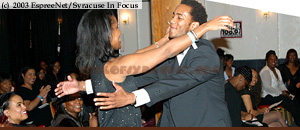 Area Bachelors Worked It Out
First Annual Bachelor Auction A Big Success

EspreeNet News Service

---

Syracuse, NY (ENet News) - The First Annual Bachelor Auction presented by BC Productions and EVT1 LLC was a big hit Saturday night at Lemoyne Manor. This year some of the proceeds will benefit the CNY chapter of the NAACP ACT-SO program.

The event was designed with the concept of the televised "Bachelor" series in mind, according to Erin Smith of BC Productions. With that, they brought on the experienced event planning and management company EVT1 with Nicole Jones and just made it happen.

There were several no show bachelors but no one seem to notice once the event began. They mingled with over 100 women for 45 minuets, took the stage individually to describe themselves, and returned in tuxedos for the bidding process.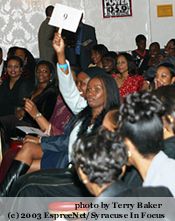 For those who provided the highest bid, they received a date package ranging from a golf outing to a dinner cruise.

There were several intense bidding wars going left to right and front to back that made the night memorable for everyone involved. "It was good to see everyone having fun" said Jerome Espree president of EspreeNet Services (the company that publishes SoulofSyracuse.com), "As a sponsor you want your company to be apart of special events that benefit good causes".

Everyone involved was happy with the event, the bachelors, attendees, sponsors, and venders. We received "nothing but positive feedback" said Smith and people are already asking about next years event.

Auction Comments:

"I am so happy that the event was a success! Congratulations to Erin and Nicole."
Sheila M. Aird (Nicole Jones mother)

"I attended the auction and I thought it was awesome. I would definitely support another Bachelor Auction or similar"
Sherice A Anderson

"it was nice to get dressed up and have some fun....the evening was great! you better believe we will be at the next one!!!"
Jacqueline Gonzalez

"It's nice to have an event where mature individuals can get together and have a good time while supporting such a worthy cause."
Arletha Baxter


---
Photo Gallery : (Click here to view photo gallery)

If you attended the auction send us your thoughts.

comments about this story: comments@SoulOfSyracuse.com

Copyright ©2003 EspreeNet News Service All rights reserved. This material may not be published, broadcast, rewritten, or redistributed without permission.


If there are any question or comments about this site:
webmaster@SoulOfSyracuse.com

Email your stories:
Comments@SoulOfSyracuse.com