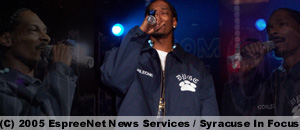 Snoop Dogg Turns The Dome Into A Home
SU's University Union Block Party 05
Students Drop It Like It's Hot With Big Snoop Dogg



EspreeNet News Service
Photos by Terry Baker and Terrill Dean

---

Syracuse, NY (ENet News) - The Carrier Dome became a (Snoop) Dogg house last night in Syracuse.

The transformation started early Sunday morning with team Snoop setting up the stage in record time. "Everything was setup by 11 am", according to University Union's PR director Sarah Usher, "they were finished before we (UU's staff) arrived". A tales from the crip backdrop, full size bed, large screens and mock radio station (WBALLZ) added theater to the show.

Good productions mean nothing without the star, so when lights went down a star came out. Known by many names Tha Dogfather, Big Snoop, Uncle Snoop, Snoop Dee Oh Double Gee or Snoop Dogg, he stood in the middle of the stage like the undisputed champion of the world.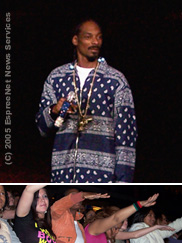 The estimated crowd of more than 6,000 fans exploded as "Murder Was The Case" kicked off nearly one and a half hours of classic Snoop.

After running off a string of hits "P.I.M.P", "Deep Cover", "G-Thang", "N(word) Please" and others, he kept the crowd moving until he stopped the music and asked the crowd does the east coast love Snoop Dogg. Yeah, was the response that filled the dome, then he responded with I got love for the east and he showed it with a tribute to Notorious BIG.

While dancing around stage to Biggie's "Hypnotize" and "One More Chance", he directed the crowd to sing and yell out "Bad Boy, Bad Boy", then brought the crowd back to the west with a tribute to Tupac by playing Gangsta Party and yelling "Tupac We Love U".

In between songs he asked the crowd "Do ya'll know what my favorite drink is", they replied gin and juice. No, he said "Gin and Orange Juice". Knowing that the crowd was bursting at the seams he gave the nod to start his monster hit single.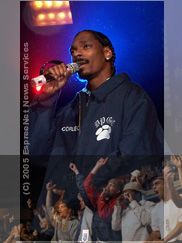 Tha Dogfather showed that he wasn't afraid to show love to other artist by playing "I'm a hustler" by Cassidy and "Let me love you" by Mario. "Stop the beat", Snoop said while Mario's song was playing, "I made a song for the ladies". After a short pause, the band hit the crowd with a dome shaking version of his first number 1 hit "Beautiful". Flanked by his cousin Daz, Snoop kicked it up a notch with "Next Episode" and "Let's Get Blown".

Before closing out the night, he put on an Syracuse University baseball cap and told the crowd "the S stands for Snoop", so every time you put this on you know what it mean.

Overall the live band, the dog pound (Daz and Krupt), and various skits made his show one of the best shows out.

Recently Snoop said on BET's 106 and Park that he wanted to be Elvis of the rap game. Well, just watch out because rap has never had a platinum artist in there late 30's. Snoop, LL Cool J, Ice Cube, Jay Z and a short list of others will have there chance to have a Parliament, Patty Labelle, Rolling Stone, Billy Joel type career. He already has the hits to play Las Vegas and a following to demand it.

From beginning to end it was a show for adults, but it was very clear that the students found there space inside tha (Carrier) Dogg house.

comments about this story: comments@SoulOfSyracuse.com

Copyright ©2005 EspreeNet News Service All rights reserved. This material may not be published, broadcast, rewritten, or redistributed without permission.


If there are any question or comments about this site:
webmaster@SoulOfSyracuse.com

Email your stories:
Comments@SoulOfSyracuse.com